Troublemakers
is the first episode of the game reboot featuring a cast of new characters and the return of old for a brand new school year at Twin Branches.
Amanda Applebee's
younger sister
Allison
is a new central character in the game. The episode focuses on Allison's first day of high school and the drama that ensues after she develops a crush on
Cameron Clark
, a crush that angers his girlfriend
Veronica
. The episode premiered on September 5th, 2013.
| | |
| --- | --- |
| | Spoiler warning! Plot details follow. |
The first day of a new year...
The episode begins with Amanda pulling up at Twin Branches for her younger sister's first day of high school. The girl Allison and Amanda discuss her future plans for school and Allison decides she wants a different name (given by the player). Allison doesn't have a single friend and hopes that could all change. While walking through the school, she bumps into Cameron Clark, who she develops a crush on. They delve into conversation about Cameron's mismatched socks until another student, Candace, walks by and drags him away.
Meanwhile, walking through the corridor, she is stopped by Cameron's girlfriend, Veronica. She taunts Allison about Amanda and Allison, feeling insulted and protective over her sister, flips Veronica only to be caught by . Ms. Lee threatens to suspend her however decides to place Allison in the Troublemakers program along with Paige, who has turned goth following the split from her boyfriend, Owen, Spencer, Erik, and Kimi. The group is assigned cleanup duty around the cafeteria and while Allison continues to pick up trash, Veronica and her friend Candace/Wendy arrives. Veronica threatens Allison, saying that things will only be worse between them if she doesn't admit she started the fight into Veronica's recording device. However, Allison stands up for herself and everyone else by refusing to do so, realizing Veronica wasn't hurt. The two friends leave soon after leaving the rest of the community service team thinking highly of Allison and what she just did. Allison hopes that The Troublemakers will soon become her friends.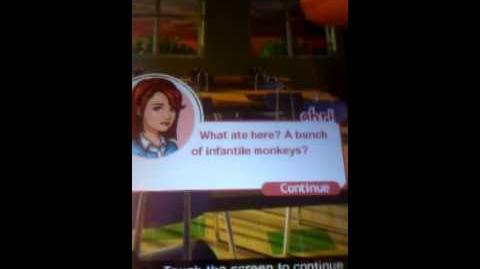 Ad blocker interference detected!
Wikia is a free-to-use site that makes money from advertising. We have a modified experience for viewers using ad blockers

Wikia is not accessible if you've made further modifications. Remove the custom ad blocker rule(s) and the page will load as expected.